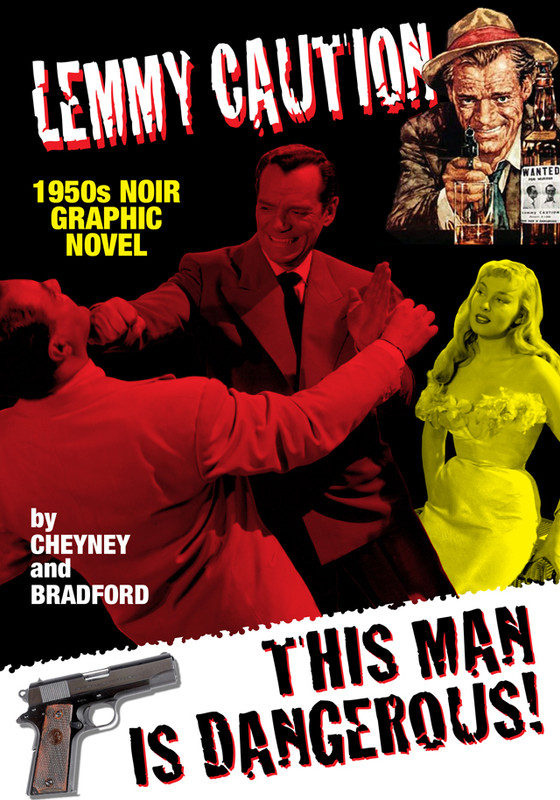 NOW ON SALE!
Available in PRINT or DIGITAL at INDYPLANET!

LEMMY CAUTION: THIS MAN IS DANGEROUS!
A two-fisted, hard-drinking escaped convict on the run becomes the newest member of an international criminal network. In order to gain the respect of the gang, he gets involved in a deadly plot to kidnap a rich American heiress! LEMMY CAUTION, star of over a dozen international noir films, juggles dames and drinks as he navigates the violent underworld! Collected for the first time, a comic strip adaptation of his first novel... THIS MAN IS DANGEROUS!

The hard-boiled Lemmy Caution was created by British writer Peter Cheyney, premiering in the novel This Man Is Dangerous in 1936. Ten Lemmy Caution novels were written between then and 1945. Lemmy has been the star character in some 15 European films and TV series, most of them from France, from 1952 to 1991. In the majority of the films and on television, Lemmy was portrayed by expatriate American actor-singer Eddie Constantine. The initial Constantine films, from 1953 to 1963 were noir detective films, though the films then evolved to become humorous and even avant-garde! The most famous of the Lemmy movies is the 1965 Jean-Luc Godard film Alphaville, which placed Caution in a bleak science fiction world.


Before Lemmy appeared on film, there were earlier radio shows and this comic strip, collected here in print for the first time. This adaptation of the first novel was only credited to author Cheyney, though the artist, known only as Bradford, slipped his signature into some of the strips. The strip ran from November 29, 1951 until October 23, 1952.


Unfortunately like a lost film just unearthed, a few episodes in this collection are missing. Many rediscovered films can still be enjoyed with segments missing and if the other pages are discovered a revised edition will be published. Consider it like a film where you had to take a few bathroom breaks, but you can still follow the plot! Also like a lost film, the print quality isn't the best due to the source material. It is still the only extant version of a lost classic that is part of the Lemmy Caution universe!

The only other Lemmy Caution comic (so far) was a promotional piece sone for Godard's Alphaville, quite understandable considering the film director's love of the medium! This collection also includes that comic, along with a color gallery of Lemmy's notable book covers and international movie posters.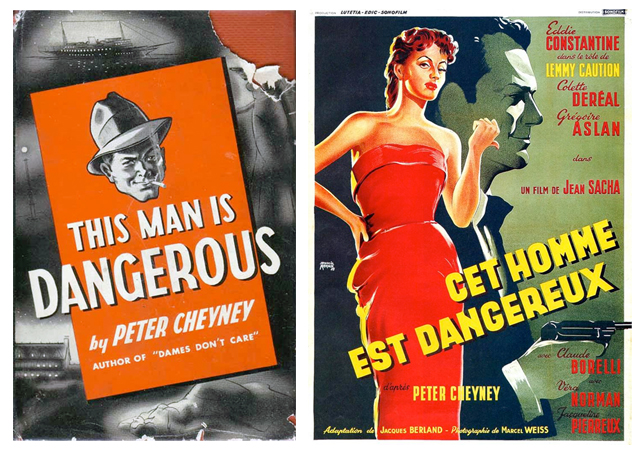 Available in PRINT or DIGITAL at INDYPLANET!
LEMMY CAUTION: THIS MAN IS DANGEROUS is a 40 page comic strip collection featuring a long lost mystery classic! This book will not be available in stores, only through mail order. Digital download also available.
All titles, characters, images and related devices © and ™ their respective creators and owners. No infringement of existing trademarks or copyrights is intended or inferred, and any use is for historic and educational purposes under "fair use" terms of U.S. Code: Title 17, Sec. 107, or for satiric intent.
CLICK ON THE IMAGES BELOW TO SEE MORE CHARLTON FUN!

| | | | | |
| --- | --- | --- | --- | --- |
| | | | | |
| VIOLENT CRIME #1 | TOTAL FRENZY #1 | SADISTIK Photo Novels | Ditko's WEIRD Comics | UNUSUAL SUSPENSE #1 |
Contact: charlton@morttodd.com