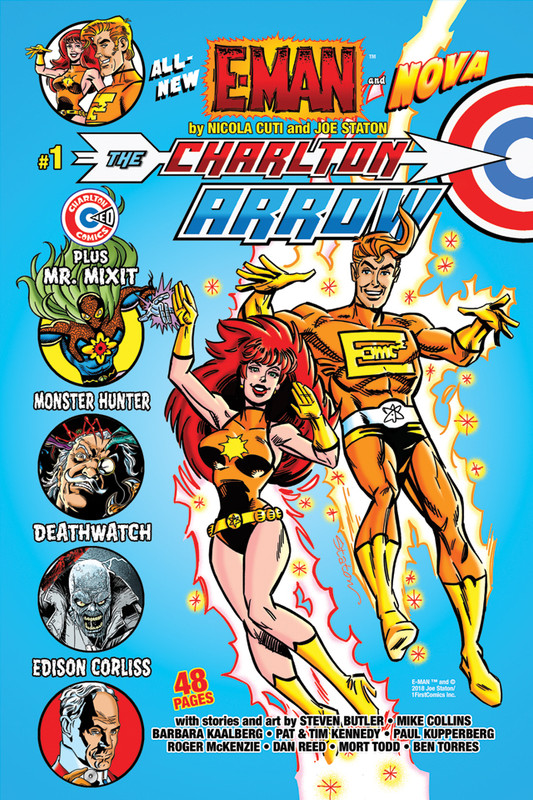 NOW ON SALE!
Buy on AMAZON here or get the Kindle Edition here!
Print and Digital Versions available at IndyPlanet!
Cover by Joe Staton!

THE CHARLTON ARROW #1 CONTENTS
THE CHARLTON ARROW #1 Volume 2 is an all-new 48 page anthology features an entertaining collection of comics by some of the world's greatest talent! Here's what you have to look forward to: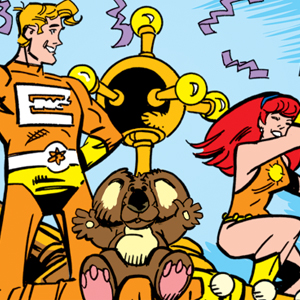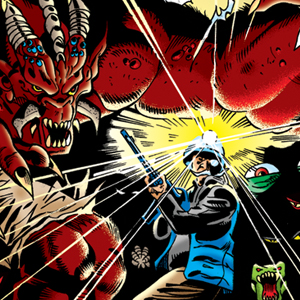 E-MAN: THE HOMECOMING The legendary and beloved Charlton Comics superhero returns in an all-new epic by original creators NICOLA CUTI and JOE STATON! A momentous event occurs and when E-Man and Nova return to her hometown they meet old friends, old foes and a new threat close to home! Color by MATT WEBB. MONSTER HUNTER: HERE THERE BE MONSTERS! Famed monster hunter Colonel Whiteshroud is back to take care of dangerous beasties run amok! But deep in the abandoned mines underneath Wales, the monsters have plans of their own for him! Written by PAUL KUPPERBERG with pencils by MIKE COLLINS and inks by BARBARA KAALBERG.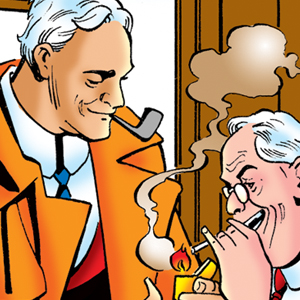 MR. MIXIT: THE DREAMWEAVER When Barry Baxter discovers an old and very mysterious comic book spinner rack, his world will never be the same again! Join madcap creators ROGER McKENZIE, STEVEN BUTLER, and MORT TODD as they unleash the most amazing new superhero of the 21st Century! EDISON CORLISS INDUSTIAL STEAM & IRONWORKS A world powered by steam stands at the precipice of war and turns to scientist and adventurer Edison Corliss along with his team at the Industrial Steam and Ironworks to lead the battle against enemy sabotage in the US! Written by PAUL KUPPERBERG. Art by PAT and TIM KENNEDY & BARBARA KAALBERG.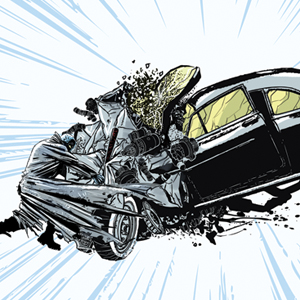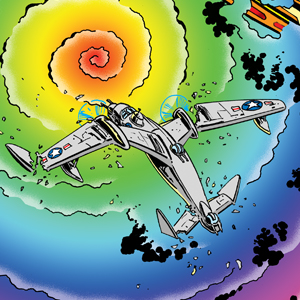 DEATHWATCH: DEAD RECKONING There is a realm between shadow and light. Day and night. Heaven and Hell. It exists in the final tick of the clock that separates life from death--- the moment when he comes for you! By ROGER McKENZIE and BEN TORRES. BONUS PIN-UP: DAN REED'S SPACE ADVENTURES An homage to classic Charlton sci-fi by artist DAN REED!
Buy on AMAZON here or get the Kindle Edition here!
Print and Digital Versions available at IndyPlanet!
THE CHARLTON ARROW #1 Volume 2 is a 48 page color comic extravaganza! Stories and art by well-known contributors to such companies as DC Comics, Marvel and Archie, including a few Charlton veterans, alongside amazing new talent! This comic SOLD OUT immediately in the comic shops and this special limited edition 2nd printing will not be available in stores, only through mail order. Digital download also available.
All titles, characters, images and related devices © and ™ their respective creators and owners. No infringement of existing trademarks or copyrights is intended or inferred, and any use is for historic and educational purposes under "fair use" terms of U.S. Code: Title 17, Sec. 107, or for satiric intent.
CLICK ON THE IMAGES BELOW TO SEE MORE CHARLTON FUN!

| | | | | |
| --- | --- | --- | --- | --- |
| | | | | |
| CHARLTON ARROW #1 | TOTAL FRENZY #1 | CHARLTON ARROW #2 | Ditko's WEIRD Comics | UNUSUAL SUSPENSE #1 |
Contact: charlton@morttodd.com