SADISTIK Deadly Violent Digest!
Foreword by Stephen R. Bissette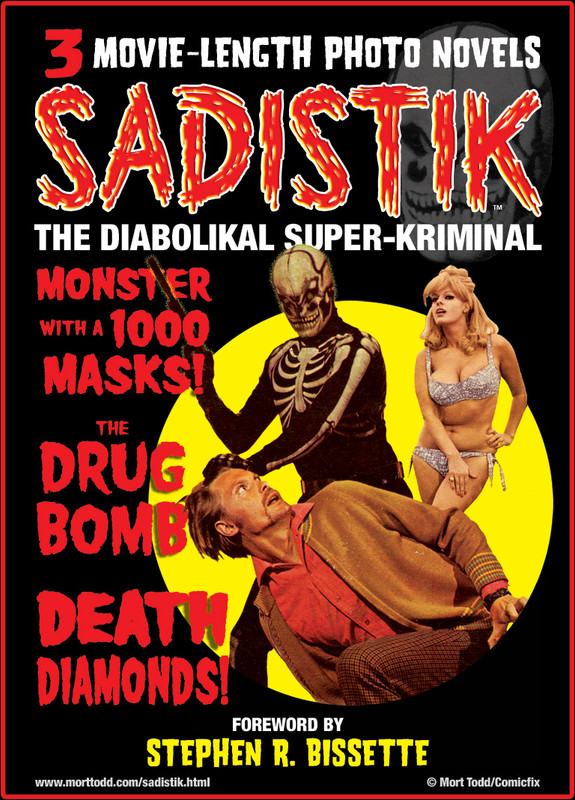 SADISTIK 50th ANNIVERSARY EDITION!



SADISTIK DEADLY VIOLENT DIGEST NOW AVAILABLE IN PRINT or DIGITAL HERE!
Darker than any Dark Knight..
an evil James Bond!
SADISTIK

, the monster with a 1000 Masks! Known as

KILLING

in Italy,

SATANIK

in France, and

KiLiNK

in Turkey where he starred in over a dozen films! Featured in photo novels published all over the world and now collected in English for the first time!
Actors appearing in these photo novels also appeared in many European movies ranging from spaghetti westerns, spy and sci-fi films under such world-famous directors as

Mario Bava

,

Dario Argento

and

Federico Fellini

.
SADISTIK Deadly Violent Digest includes three complete, uncensored, movie-length photo novels.
SADISTIK Deadly Violent Digest (D.V.D.) is a 560 page photo-graphic novel featuring the first 3 movie-length adventures published, and like a DVD, contains a dozen extras, ranging from commentaries by film historian and comics creator Stephen R. Bissette (Danger: Diabolik, Swamp Thing), a history of Euro comic villains in books, comics and movies (Fantomas, Diabolik, Kriminal and SADISTIK), to actor pin-up galleries, filmographies and other fun, additional supplements. Like a DVD, the book measures 5" x 7" to conveniently store with your favorite DVDs.
CONTENTS
MONSTER WITH A 1000 MASKS!: The first published criminal exploit of the King of Crime, SADISTIK! A decadent Prince visiting America has a hidden treasure and is targeted by the Imperceptible One! But SADISTIK has to crack an exploding safe while avoiding the Police, killer vixens and Soviet Agents!
THE DRUG BOMB!: Gangsters steal an experimental 'super-heroin' which packs a bigger punch than anyone expected. Knowing its true secret, the King of Crime, with his incomparable lover Dana, plots to steal the plunder for his own nefarious designs in this tale of addiction, forbidden lust, greed, betrayal and death!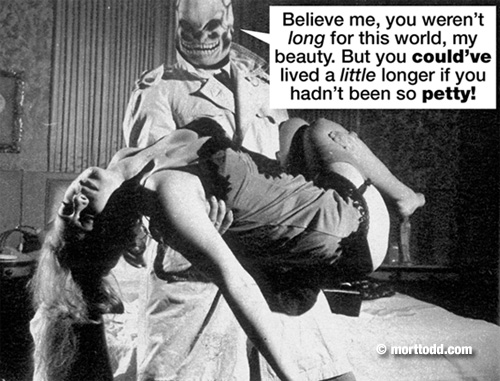 DEATH DIAMONDS!: A cache of hot sparklers triggers a bloodbath when the tenacious King of Crime plots to purloin the gems from a cadre of gangsters, hoodlums and scheming hellions! And how are the Monte Carlo police able to track the every move of the Monster with 1000 Masks? A movie length photo novel with primal terror, murder, sex, and vicious duplicity!!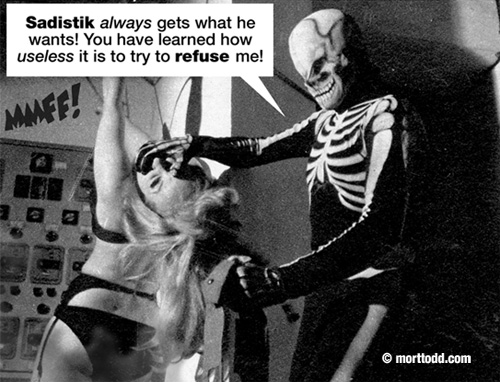 BONUS FEATURES
Thw SADISTIK Deadly Violent Digest is DVD sized, and like many DVDs comes packed with bonus features of photo galleries, pin-ups, actor filmographies, articles and more!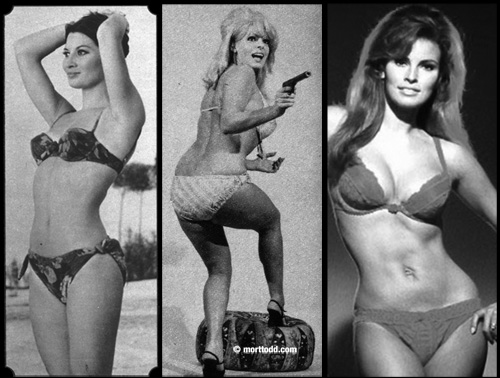 FOREWORD by STEPHEN R. BISSETTE: Noted comics creator, film historian and DVD commentator STEPHEN R. BISSETTE on the history of the photo novel, which birthed The Diabolikal Super-Kriminal! BEWARE: SADISTIK!: A Top Secret Dossier on the evolution of the European Super Criminals, photo novels and the creation of SADISTIK, lavishly illustrated! LUCIANA PAOLI PICTORIAL: The only woman able to handle the passion of SADISTIK; DANA as portrayed by actress Luciana Paoli. Rare vintage pin-ups plus article and complete filmography! MURDER AT THE MARDI GRAS: You solve the crime in this weird piece of picto-fiction from the premiere 1966 issue. SADISTIK: Behind the Mask!: More odd facts about the Crime Genius! THE PIN-UP COLLECTION of a DIABOLIKAL SUPER-KRIMINAL!: SADISTIK isn't just about VIOLENCE... it's about SEX, too! ROSARIO BORELLI The Man Behind the Mask of Death: Biography and filmography of the handsome actor, singer and director of all the adventures of the Crime Genius! ROSALBA NERI PICTORIAL: Vintage pin-ups of the European film femme fatale! POP-ART PIN-UPS: In the go-go 1960s, anything goes! Even pop-art bikinis! FORMATS of FEAR!: SADISTIK has lurked under many names, in a variety of languages and different sized formats. A primer on international editions! The BELT of DEATH and DAMNED FLATFOOTS!: An overview of the actors who have dogged SADISTIK as Police Inspectors and notes on the production sequence of the photo novels! A special contribution by SS-Sunda, the director of The Diabolikal Super-Kriminal documentary. RAQUEL WELCH: 1,966 A.D.: Vintage article on the sexy superstar before her breakthrough role in One Million Years B.C.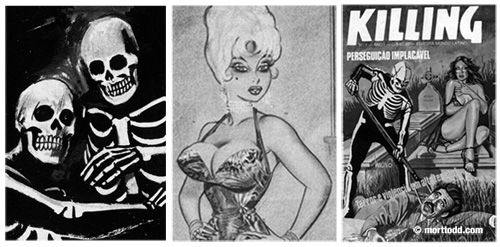 SADISTIK DEADLY VIOLENT DIGEST NOW AVAILABLE IN PRINT or DIGITAL HERE!
MORT TODD is a filmmaker, animator and former writer, artist & editor for Cracked, Monsters Attack! magazine and Marvel Comics. Beyond translating and adapting the SADISTIK photo novels, he is developing a live action film and animated series with the character. An Italian documentary he produced about SADISTIK called THE DIABOLIKAL SUPER-KRIMINAL has won awards at film festivals around the world and recently released on DVD in Europe.
Download or view online a FREE 54 page PDF PREVIEW of the SADISTIK DEADLY VIOLENT DIGEST by clicking here!
ALSO NOW ON SALE
Click on the cover images below to see more information on these SADISTIK books and order!
Teaser for THE DIABOLIKAL SUPER-KRIMINAL Dokumentary. See more SADISTIK films, music videos and animation on The SADISTIK CINEMA PAGE!