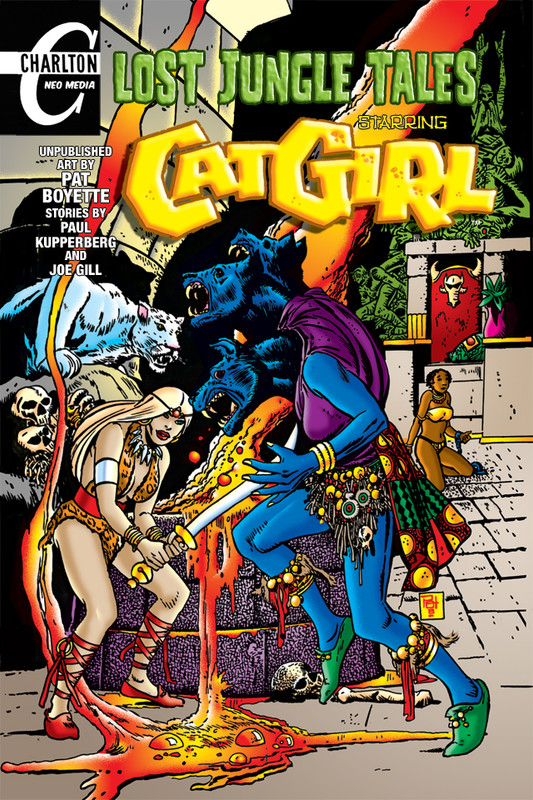 Cover art by Pat Boyette & © Archie Comics
AVAILABLE IN PRINT & DIGITAL!
Get it on AMAZON HERE!
Get it on IndyPlanet HERE!
Pat Boyette's Unpublished LOST JUNGLE TALES CONTENTS

Pat Boyette was a legendary comics creator, broadcaster and filmmaker from Texas. After many years in TV and movie production, he embraced his first love, comics, and began a prolific career, notably at Charlton Comics, but also at Marvel and DC Comics. He was equally adept in illustrating horror, heroes, humor, jungle and war features.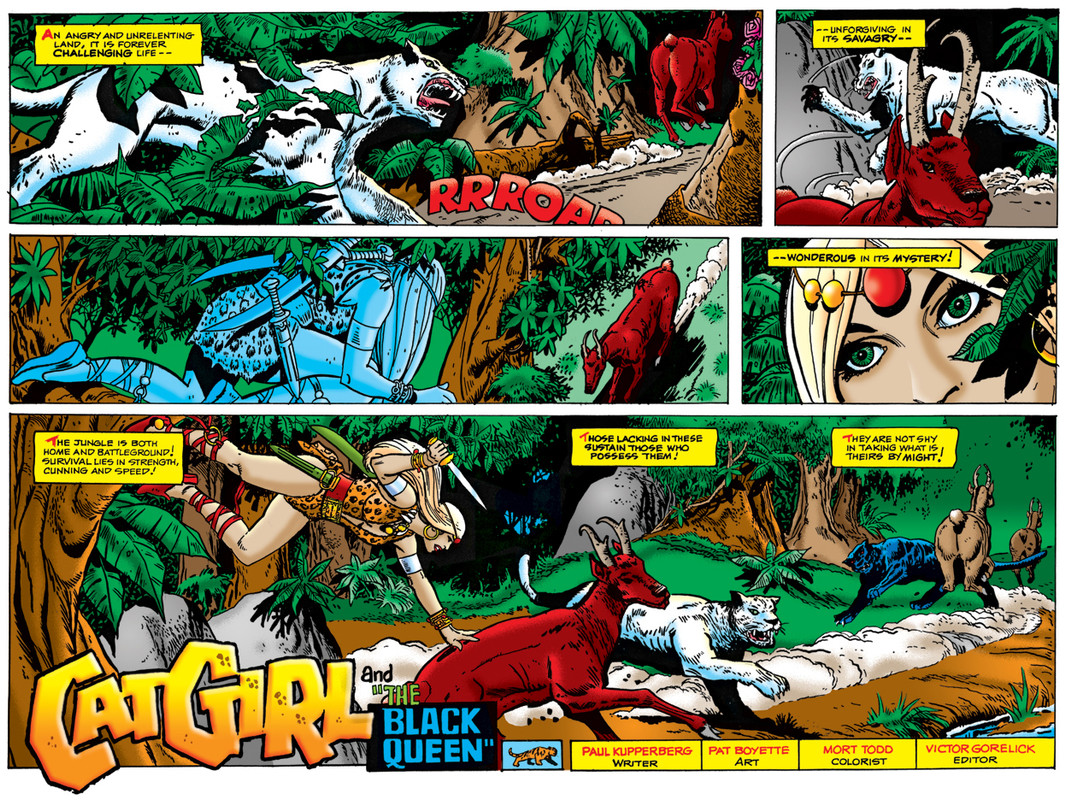 In the early 1980s he contributed art to a story for Archie Comics written by the talented Paul Kupperberg. Archie was attempting to revive their Golden Age and Silver Age superheroes in the title Blue Ribbon Comics. Paul came up with a novel concept for a minor supporting character that had appeared in the earlier Adventures of the Fly and Adventures of the Jaguar called Cat Girl. Rather than continuing her role as a semi-super villain with the ability to control cats, Paul evolved (devolved?) her into a primal jungle warrior along the lines of Sheena, Queen of the Jungle and added an unhealthy dollop of save sword and sorcery.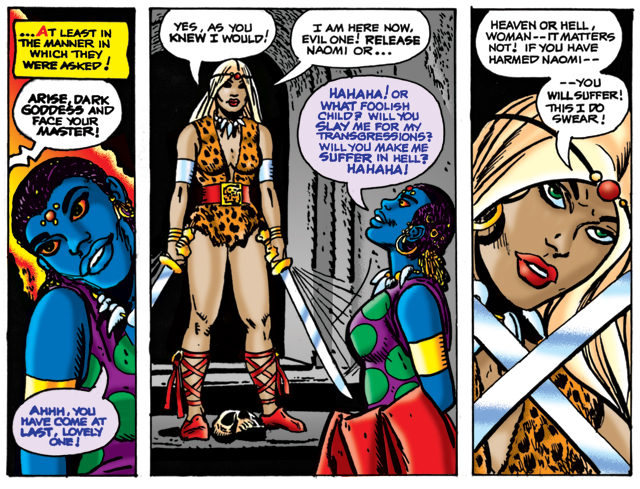 The story was slated for Blue Ribbon Comics #15 (cover dated February 1985), but unfortunately the series was terminated with issue #14! Fortunately, Kupperberg kept copies of the art and through the generous approval of Archie Comics, we are now able to publish the story after some 30 years in limbo! The art was restored and colored by Charlton Neo editor/publisher Mort Todd and is now presented for the first time in LOST JUNGLE TALES #1!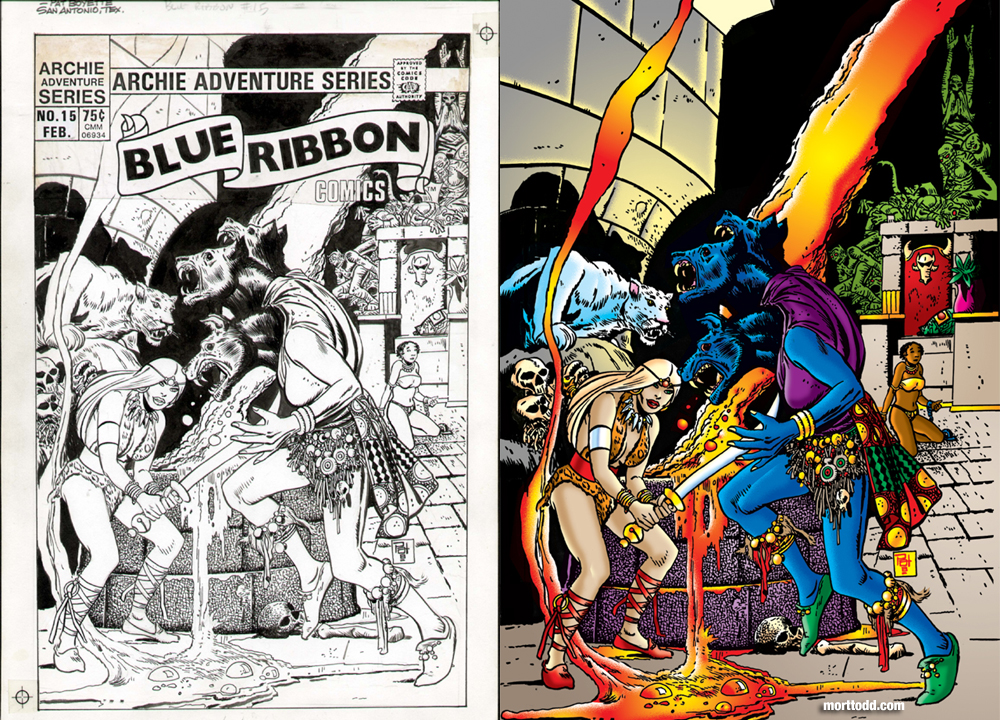 The title of this comic is very apt as it also features two other stories by Pat set in the wilds of Africa. These stories were created for Charlton Comics in 1969 and written by the Charlton powerhouse scribe Joe Gill. The art features some of Pat's dynamic visuals and innovative layout and is exciting to see over 50 years later for another title that was cancelled before it could see print!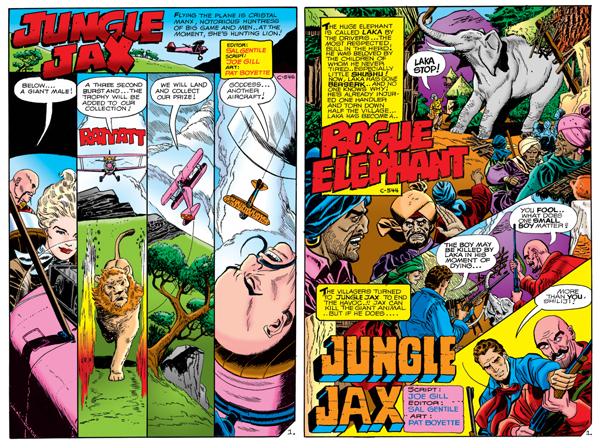 It is with great pride that Charlton Neo is able to print these unpublished gems for the first time and a great pleasure that Mort, who was editor for Pat at Cracked magazine and Marvel Comics, got to 'work' with him again.
AVAILABLE IN PRINT & DIGITAL!
Get it on AMAZON HERE!
Get it on IndyPlanet HERE!
LOST JUNGLE TALES #1 is an 40 page color comic extravaganza, featuring stories and art by well-known contributors to such companies as DC Comics, Marvel and Archie Comics! The comic will not be available in stores!
CAT GIRL © and ™ Archie Comics. All other material © Charlton Neo.

CLICK ON THE IMAGES BELOW TO SEE MORE CHARLTON FUN!

| | | | |
| --- | --- | --- | --- |
| | | | |
| CHARLTON ARROW #1 V2 | WILD FRONTIER #1 | UNUSUAL SUSPENSE #1 | SECRET ROMANCES TPB |
Contact: charlton@morttodd.com